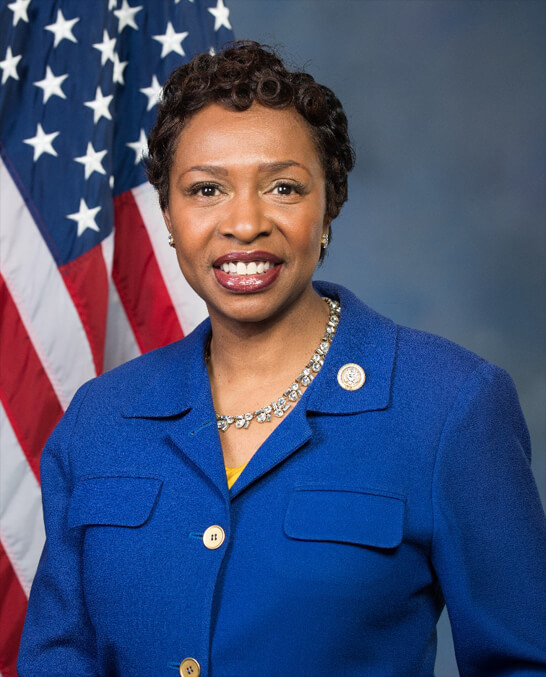 About
Hailing from central Brooklyn, Congresswoman Yvette Diane Clarke feels honored to represent the community that raised her. She is the proud daughter of Jamaican immigrants and takes her passion for her Caribbean heritage to Congress, where she co-chairs the Congressional Caribbean Caucus and works to foster relationships between the United States and the Caribbean Community. Clarke is a Senior Member of both the House Energy and Commerce Committee and House Committee on Homeland Security. Clarke has been a member of the Congressional Black Caucus since coming to Congress in 2007 and today chairs its Immigration Task Force.
As the Representative of the Ninth Congressional District of New York, Congresswoman Clarke has dedicated herself to continuing the legacy of excellence established by the late Honorable Shirley Chisholm, the first Black woman and Caribbean American elected to Congress. In the 117th Congress, Congresswoman Clarke introduced landmark legislation, which passed in the House, the Dream and Promise Act (H.R. 6). This legislation would give 2.5 million DREAMers, temporary protected status, and deferred enforcement departure recipients a clear citizenship pathway.
Clarke is a leader in the tech and media policy space as co-chair of the Smart Cities Caucus and co-chair of the Multicultural Media Caucus. Congresswoman Clarke believes smart technology will make communities more sustainable, resilient, and livable and works hard to ensure communities of color are not left behind while these technological advancements are made. Clarke formed the Multicultural Media Caucus to address diversity and inclusion issues in the media, telecom, and tech industries. Clarke is one of the Co-Chairs of the Congressional Caucus on Black Women and Girls, which develops programs to support the aspirations of Black women of all ages. Congresswoman Clarke is also the co-chair of the Medicare for All Caucus, where she is fighting for the right to universal health care.
Prior to being elected to the United States House of Representatives, Congresswoman Clarke served on New York's City Council, representing the 40th District. She succeeded her pioneering mother, former City Council Member Dr. Una S. T. Clarke, making them the first mother-daughter succession in the City Council's history. She cosponsored City Council resolutions that opposed the war in Iraq, criticized the federal USA PATRIOT Act, and called for a national moratorium on the death penalty.
Congresswoman Clarke is a graduate of Oberlin College and was a recipient of the prestigious APPAM/Sloan Fellowship in Public Policy and Policy Analysis. She received the Honorary Degree of Doctor of Laws Honoris Causa from the University of Technology, Jamaica, and the Honorary Doctorate of Public Policy from the University of the Commonwealth Caribbean. Congresswoman Clarke currently resides in the Flatbush neighborhood of Brooklyn, where she grew up.